Youbeme Album
My latest release with Deprogram, Youbeme is out on March 3rd, 2023 through Australian experimental and left-field label, Provenance. Capturing improvisations with bespoke gestural instruments and processed vocals, the album is a textural exploration of ephemeral sound worlds. Drummer, Robbie Mudrazija and bassist, Meeghan Oliver anchor these transient embodied atmospheres with evolving synthesised polyrhythms.
The album can be downloaded/streamed here.
Body as Instrument: Performing with Gestural Systems in Live Electronic Music
Body as Instrument explores how musicians interact with movement-controlled performance systems in live performance. Drawing on interviews with long-term practitioners, Laetitia Sonami, Atau Tanaka, Pamela Z, Julie Wilson-Bokowiec, Lauren Sarah Hayes, Mark Coniglio, Garth Paine and The Bent Leather Band, as well as reflection on my work, I explore the role of the body in live electronic performance and how movement-based instruments develop over time.
It is published through Bloomsbury. You can order here.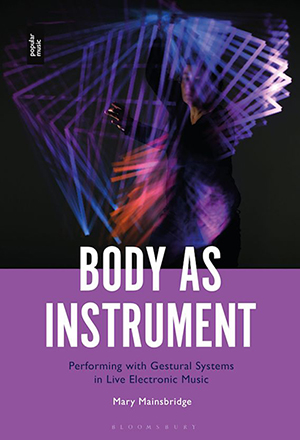 Intangible Spaces
After devoting a decade to customising instruments for the body in live electronic music, a new release that captures the sounds created during this period is available on October 4 through Provenance Records. The single, Intangible Spaces, merges sounds created with novel gestural instrument, the Telechord with processed vocals by Mary Mainsbridge, electronic rhythms from Robbie Mudrazija and Meeghan Oliver's sustained bass textures. Recorded in one take, the semi-improvised piece has evolved from live performances at the Vivid Festival in Sydney and International Sound and Music Computing Conference in Cyprus. The download link will be available shortly.
Data Lies
A new semi-improvised performance, Data Lies reclaims and reimagines voice print and motion data, questioning its increasing use in digital surveillance. The work challenges the external monitoring and commodification of human behaviour and biometric data, from online activity to fitness levels and consumer habits. It exposes insights gained from working with personal physical data over the past decade to uncover secrets about the self and human relations.
Provenance compilation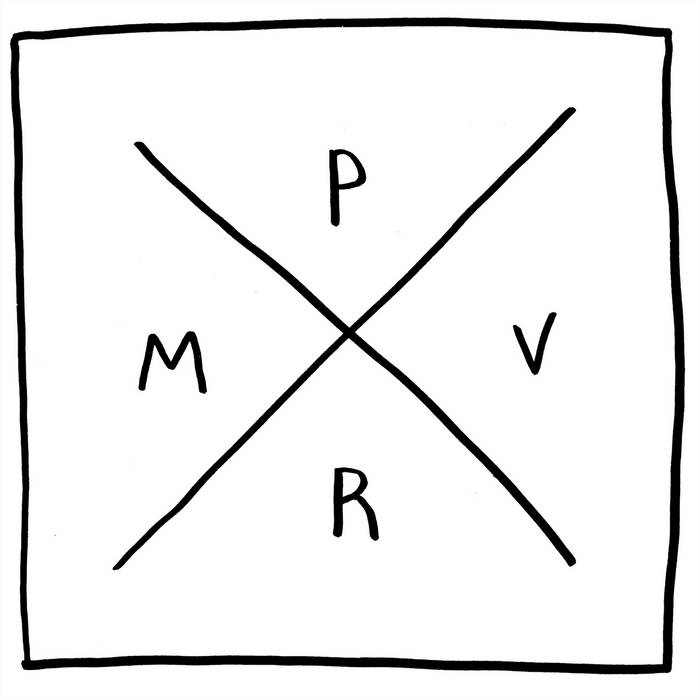 'Alignment' is out now on the new Provenance compilation, Marks of Provenance V. The work was first performed with gesturally augmented piano, visuals and drums at the Eugene Goosens Hall in the ABC building in Ultimo. This electronic version introduces processed vocal elements, bird trills, freight trains and heavy percussion.
The compilation features vocal and instrumental pieces from the experimental, artist-run label, including Sebastian Field, Arrom, Sandy Hsu, Imogen Cygler, Lack the Low, and Aphir, as well as contributions from friends of the collective mookoid, Chrome Twin, romæo and LÂLKA.
All proceeds from sales of the compilation will be donated to Disability Justice Network Mutual Aid Fund (www.gofundme.com/f/disability-justice-network-mutual-aid-fund) to assist with providing material and financial aid to disabled people in Australia.
Woodburn Creatives
Thanks to music, art and design space, Woodburn Creatives in Redfern for hosting our event in early December. We performed new works for gestural instrument, the Telechord with Robbie Mudrazija on drums and Meeghan Oliver on Saturday, December 4, 2021. Full spectrum video art by J D Young complemented bespoke visual feedback from the DIY system. This gave us the space to iron out some overdue software issues plaguing the Telechord. Much gratitude to J D Young for organising audio logistics, the video and projections. The full video and excerpts are available here.
Editing live album
I'm in the process of mixing the live album we recorded at Electrosocial, hosted by Electrofringe in 2019. The collaborative improvisations are based on a new series of works including interactive piece, Yoube.me, featuring interactive movement-controlled projections and the video art of Sydney-based artist, J D Young to a live soundtrack. Instrumentalists, Meeghan Oliver on bass, and Robbie Mudrazija on drums, join me on keyboards, vocals and Telechord.
Youbeme performance/installation at Electrosocial
I will be performing and receiving You.be.me, an electronic musical performance recorded live by the audience and performers with wearable and mobile cameras at Electrosocial on Friday, November 23 at 8:00pm. Presented by audio-visual improvisational collective, Deprogram, the work challenges the 'broadcast yourself' philosophy of Youtube and Instagram, using smartphones and camera glasses to create a shifting game of perception.
Responding to the promotion of narcissism through social media, the work is about sharing inner perceptions of the world rather than external images of the self. Audience members are equipped with a mobile application to enable them to film the event and share their unique perspective with others. The multiple video streams captured by audience members will be uploaded onto the You.be.me website, offering multiple viewpoints of the performance. Site visitors will be able to preview the performance from a variety of perspectives, entering into the unique experiences of different event participants.
The performance combines immersive projections, improvised electronic percussion, voice and embodied instrument.
Recording Gestural Traces
After performing ensemble and solo versions of the work, Intangible Spaces at the Sound and Music Computing Conference in Limassol Cyprus; Soma Sonic at the Bondi Feast Festival, and Sydney's Vivid Festival, I am currently addressing the challenge of fixing the transient and temporal world of improvised gesture-controlled musical performance into recorded form. An album is planned for release in 2019 through Endgame Records. I am sifting through several years of recorded materials, crafting arrangements aimed at preserving the spontaneity of the vocal and movement-based improvisations I have been collecting and archiving. As Laetitia Sonami previously mentioned, it's difficult to capture the process of generating and transforming sounds through movement. Perhaps that's why she has gravitated more towards live performance than recorded formats.

Intangible Spaces performance, 107 Projects Redfern, photo: Rhiannon Hopley
More about these sonic experiments, Intangible Spaces and the intersection between voice and movement can be found in an article I wrote called 'Gestural systems for the voice: Performance approaches and repertoire', recently published in Digital Creativity. In it I explore the transformative effects of combining the intangible aspects of voice and movement to develop a new type of hybrid instrument.


Intangible Spaces
I am currently developing the work Intangible Spaces, which will premiere at Vivid Sydney on June the 8th, 2018. The performance piece is composed for voice and custom-designed gestural instrument, the etherstring. Much like the theremin, sounds are plucked from the ether using touchless gesture control, merging with the voice to create a hybrid sonic signature. Visuals depicting the sonic processes behind the instrument are projected onto the body, creating a shifting canvas of movement and sound controlled light beams. The dimensions of the instrument and body are projected alongside a subtly shifting visual backdrop by Sydney-based video artist, JD Young and complemented by hypnotic rhythm section featuring Robbie Mudrazija on electronic drums, samples and percussion and bassist Meeghan Oliver.
The work will be performed at Intangible Instruments, an event presented by 107 Projects: In Frequency, alongside performances by Donna Hewitt and Julian Knowles that explore the intangible aspects of voice and movement. Donna Hewitt, whose pioneering instrument designs, compositions and performances have uncovered new ways of interfacing the voice with electronic media, will perform a set with her eMic, a sensor enhanced microphone stand, and her newly devised wireless wearable interface. These interfaces allow the performer to manipulate electronic, acoustic sounds and her voice in real time by capturing bodily movements via sensing mounted on her body and on the microphone stand. She will also present a composition for two wearable interfaces and intelligent lighting.
An improvised, solo version of the work will be performed at the 2018 Sound and Music Computing Conference in Limassol, Cyprus.
Gestural interfaces broaden musicians' scope for physical expression and possibilities for creating more engaging and dynamic performances with digital technology. Increasing affordability and accessibility of motion-based sensing hardware has prompted a recent rise in the use of gestural interfaces and multimodal interfaces for musical performance. Despite this, few performers adopt these systems as their main instrument. The lack of widespread adoption outside academic and research contexts raises questions about the relevance and viability of existing systems.
This research identifies and addresses key challenges that musicians face when navigating technological developments in the field of gestural performance. Through a series of performances utilising a customised gestural system and an expert user case study, I have combined autoethnographic insights as a performer/designer with feedback from professional musicians to gain a deeper understanding of how musicians engage with gestural interfaces. Interviews and video recordings have been analysed within a phenomenological framework, resulting in a set of design criteria and strategies informed by creative practitioner perspectives.
This thesis argues that developing the sensorimotor skills of musicians is integral to enhancing the potential of current gestural systems. Refined proprioceptive skills and kinaesthetic awareness are particularly important when controlling non-tactile gestural interfaces, which lack the haptic feedback afforded by traditional acoustic instruments. However, approaches in the field of gestural system design for music tend to favour technical and functional imperatives over the development of the kinaesthetic sense.
This research builds on a growing body of gestural interface design and human–computer interaction (HCI) literature, offering practice-based insights that acknowledge the changing face of musicianship in response to interaction with gestural sensing technologies. To encourage enhanced physical aptitude and more nuanced movement control amongst musicians, I have applied embodied interaction design and dance-based perspectives to musical contexts. The result is a design approach that accentuates the physical fit between performer and instrument by prioritising aspects of bodily feel while nurturing and strengthening musicians' awareness of their own movement potential.
Click on the title above to access videos, audio recordings and code for performances dating from 2012 to 2014. This material supplements my 2016 thesis, 'Body as Instrument: An Exploration of Gestural Interface Design.'
SaveSave
SaveSave